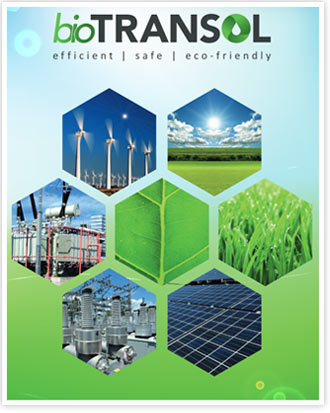 View PDF

Biotransol HF is a natural ester based dielectric fluid based on renewable vegetable oils. The fluid is readily biodegradable as per US EPA OECD 301B, environmentally friendly and non–toxic to aquatic life. The product is certified for its electrical and chemical properties by CPRI, a reputed laboratory in India for dielectric fluid testing. It is also tested & certified at the reputed laboratories of Intertek for its biodegradability & absence of aquatic toxicity.
Designed to have superior properties as compared to conventional mineral based oils, Biotransol HF is classified under K class based on its high flash and fire point. These characteristics make Biotransol HF the ideal choice for applications requiring high fire safety and environmental protection in case of accidents or spillages.
With over 40 years in the business of designing dielectric fluids for Transformers, Savita has crafted Biotransol, to not only protect the environment but also significantly increase the life and performance of your transformer. Biotransol is your ideal dielectric fluid in applications requiring higher levels of efficiency, safety and environmental consciousness.
Efficient
Faster moisture extraction from paper insulation while maintaining BDV, thereby increasing performance and extending life of your transformer.
Slows ageing of transformer by enhancing life of solid insulation material.
Transformer load can be enhanced as a result of diminished paper ageing.
Reduces maintenance time and cost.
Less consumption of fluid relative to conventional oils.
Lower insurance premiums as a result of superior safety properties.
Lowers cost of clean-up and impact in case of accidental spillages.
Delays asset replacement and capex by prolonging the life of an aged transformer after Retrofil.
Safe
With a high Fire and Flash Point (>320°C, > 300°C), Biotransol significantly reduces risk of ignition and fire in case of accident.
Enhances safety for workers during installation, maintenance and condition monitoring.
Minimum damage in the event of spillage, as a result of its biodegradable nature.
Eco-Friendly
Designed from entirely renewable sources.
Reduces carbon footprint by being completely biodegradable.
Non-toxic and eco-friendly to the environment and aquatic life.


TECHNICAL DATA OF BIOTRANSOL-HF
Standard Test Methods
ASTM D6871
IEC 62770
Biotransol HF
Property
ASTM
ISO/IEC
New unused fluids
New unused fluids
Typical
PHYSICAL PROPERTIES
Colour
D1500
ISO 2211
≤ 1.0
0.5
Flash Point COC (℃)
D92
ISO 2592
≥ 275
320 - 330
Fire Point (℃)
D92
ISO 2592
≥ 300
> 300
350 - 360
Pour Point (℃)
D97
ISO 3016
≤ -10
≤ -10
-15 to -18
Density at 20℃ (g/cm3)
ISO 3675
≤ 1.0
0.92
Viscosity (mm2/sec)
D445
ISO 3104
100℃
≤ 15
≤ 15
7.2 - 8.5
40℃
≤ 50
≤ 50
32 - 35
Visual Examination
D1524
IEC61099 9.2
bright and clear
clear, free from
sediment and
suspended matter
bright and clear
ELECTRICAL PROPERTIES
Dielectric Breakdown (kV) 2.5mm gap
IEC 60156
≥ 35
70
Gassing Tendency (mm/min)
D2300
≤ 0
-6.6
Dissipation Factor
25℃ (%)
D924
≤ 0.20
0.15
90℃ (tan δ)
IEC 60247
≤ 0.05
0.02 - 0.03
100℃ (%)
D924
≤ 4.0
2.15
CHEMICAL PROPERTIES
Corrosive Sulfur
D1275
IEC 62697
non-corrosive
non-corrosive
non-corrosive
Water Content (mg/Kg)
D1533
IEC 60814
≤ 200
≤ 200
< 50
Acid Number (mg KOH/g)
D974
IEC 62021.3
≤ 0.06
≤ 0.06
0.03
PCB Content (mg/Kg)
D4059
not detectable
free from PCBs
not detectable
Oxidation Stability (48hrs, 120℃)
IEC 61125C
Total Acidity (mg KOH/g)
IEC 62021.3
≤ 0.6
0.1
Viscosity 40℃ (mm2/sec)
ISO 3104
≤ 30%
increase over initial
17.8
Dissipation Factor at 90℃ (tan δ)
IEC 60247
≤ 0.5
0.2
Biodegradation
OECD 301
readily biodegradable
readily biodegradable
For inquiries, contact : technical.services@savita.com